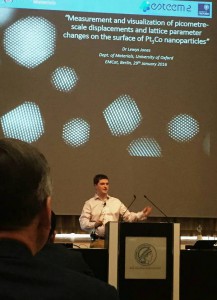 This year I will be attending several meetings talking about high-precision nanometrology. You can come find me and chat at:
EMCat, Berlin (Jan. 27-29),
ESTEEM2 Meeting, Düsseldorf (Feb 29 – Mar 2),
JEOL, Tokyo (Apr. 4-19),
CCEM School, McMaster University (May 29 – Jun. 3),
SCANDEM, Trondheim (Jun. 7-10).
JEOL UK ARM Users Meeting, Glasgow (Jun. 14-15).
"New Trends in EM", Schloss Ringberg (Jun. 22-24),
EMC, Lyon (Aug. 28 – Sep. 2),
"Future Technologies in EM", York (Sept. 12-13),
NPRL Seminar, U. Birmingham (Sept. 28th).